Solar water heating, two of the big questions that are being asked at present:
"Is solar water heating any good?"
"Will it save me money?"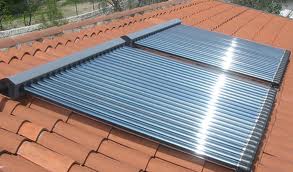 These questions can be tricky to answer, especially if you live in an older property. Each installation is slightly unique in design and arrangement. When you travel around a modern new property estate you will notice a number of the home have many of the most up-to-date environmentally friendly, money-saving, carbon reducing devices already fitted as they are being constructed. Retro fitting your property with solar water heating can be a more complex matter and employing the right Norwich Plumber is vital.
The first thing is "What is solar energy?"
In layman's terms the sun provides a plentiful and, free source of clean energy that can be harnessed to heat part of your hot water needs. Modern solar hot water systems will work at its best during the summer months it will contribute towards most if not all of your hot water needs.
In winter they will contribute towards some of your hot water heating needs you will need to top it up with help from a boiler or immersion heater. Your existing hot water system will act as a top-up, which should work automatically to provide you with hot water at the required temperature when you want it.
So how does solar water heating work?
There is a liquid inside the solar collectors (panels) that absorbs the heat from the sun and then this heat is transferred through a series of pipes to your hot water cylinder. Then your boiler or immersion heater will tops up this stored heat to reach the temperature set on your cylinder thermostat. Solar systems are now regarded as an established renewable energy technology. In the main they are easily installed with a minimal disruption and will work alongside your existing heating system.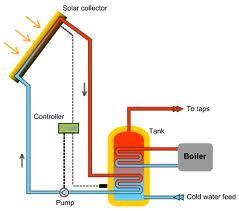 Most solar water heating systems can be designed to fit and work with most existing water heating systems. It should be noted that they are not suitable to be used with some combination boilers. You will need to have room for a suitably sized hot water cylinder that will meet your current needs and sufficient space. You will normally fit the solar heating panels on the roof.
It is always best to seek advice from a qualified and insured Norwich plumber who will assess your situation and discuss with you what they consider to be the best options to meet your requirements.
Where can I fit them?
A typical solar panel installation requires around 4m2 of roof space and room inside the property to fit either an additional hot water cylinder or replacement of the existing cylinder with a larger one.
It is best to fit solar water heating panels on unobstructed roofs facing south. Any shadows from trees, chimney stacks or other buildings may reduce the amount of heat you will be able to obtain from a solar collector and therefore make a system less cost-effective. It is typical to fit solar panels at a pitch of 30° to 45° from the horizontal.
If you have a flat roof then you can use an angled mounting frame kit. In some instances you may have a roof that faces east-west. If this is the case then one panel will need to be situated on the east side to collect the morning sun and another on the west side to collect the afternoon sun. I would suggest that it is not a good idea to install solar panels on a north facing roof as they will not benefit from the sun.
Types of Solar Water Heating Panels
There are three main types of solar collectors on the market at present:
Flat plate collectors – These are made from a glazed, flat, dark surfaced absorber plate which contains metal tubing this is normally either copper or aluminum. The absorber plate collects incoming solar heat energy and the casing helps to minimises heat loss. A liquid is circulated through the tubing and this liquid heats up as it passes by the absorber plate it will then transfer the gained heat via the coil in the cylinder.
Evacuated tube collectors – These are parallel rows of transparent glass tubes which contain an absorber insulated by a partial vacuum. This type of solar collector is generally more effective throughout the year than flat plate panels are for collecting the sun energy.
Unglazed collectors – These are only suitable for low water temperature applications such as when used to help heat a swimming pools, they can be used to supplement an air source heat pump that is being used to heat a swimming pool.
All of these collectors can be used as a supplemental heat source for your hot water heating when used in conjunction with an air or ground source heat pump.
Planning considerations
If you are living in a listed building or in a conservation area, you should always check with your council. The most up-to-date advice on planning is available on the government's planning portal.
Should you be thinking of fitting Solar Water Heating system all good Norwich Plumbers will be able to advise on this. If you currently don't have a plumber that you regularly use you can find one though the Institute of Plumbers or via Norfolk trading standards Trusted Trader Scheme which TSM Plumbing is a member. Remember to check that the plumber you let into your home is qualified and Insured to carry out the work you have requested.
I hope this advice will be of help to you stay, in my next blog I will look at the different types of cylinder that you can use with a Solar Water heating system, please stay warm this winter and should you have any questions please feel free to contact me