When do I need a Power Flush?
In my last blog I talked about some of the problems people face if their heating system is getting old and how it can clog up with iron oxide and what can be done to help prevent the build-up of iron oxide also known as sludge.
As a plumber I am often called out to a home which has one or a combination of the following problem:
Slow warming of the heating system.
Some radiators not warming up at all other radiators with cold spots.
Boiler cuts out regularly.
Leaky radiators.
Sludge in feed or expansion tank.
Discoloured water when radiators are bled.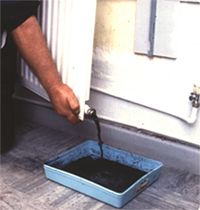 Sometimes more drastic action is needed to restore a heating system to good health. All good plumbers will be able to solve these problems for you and many will recommend a Power Flush of the heating system.
The primary and basic aim of power flushing a central heating system is to remove all of the sludge (iron oxide), which causes radiators not to heat up correctly and to generally block the pipe work which connects the boiler to the radiators.
The power flushing entails draining the central heating system down and introducing chemicals which remove the sludge and blockages. Once this is done the system is cleaned with fresh water and an inhibitor is added for future protection.
A reputable plumber will normally, depending upon the size of the property, be able to complete this type of job in one day restoring your central heating system back to full health.
While Power Flushing a heating system, several jobs that improve the efficiency of your central heating system and save you money can be done at the same time as power flushing your system, add or replace Thermostatic Radiator Valves including Programmable TRVs, Replace Radiator Valves or fit a Magnaclean to the heating system.
TSM Plumbing can do this work while on-site and can pass the savings – such as lower travel time – on to you. Our special prices are significantly lower than if you called a plumber in especially to do this extra work.
While a Power Flush is to be considered a great investment in a tired heating system the following is important to bear in mind before you have a trained Plumber undertake this work for you and it should be stressed Whilst these occurrences are very rare, customers need to be aware that:
A power flush can be extremely effective in cleaning systems that have corrosive problems as a result of a design fault, but I strongly recommend that any such design faults be rectified before power flushing commences.
The success of a power flush will depend on the level of heating system corrosion which has occurred beforehand.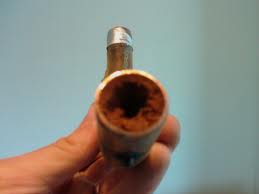 The process will cure most circulation problems, but cannot undo the corrosion and gradual decay that has led to the need to power flush the system.
Whilst it is rare for a heating system to experience leaks after the power flush process, it is not possible to inspect a system internally beforehand, and the need to use a flushing and dispersing chemical for effective cleansing means that occasionally it is possible to find a leak.
The advanced stage of corrosion required for such a situation means that the leak would have occurred imminently even without a power flush. I believe that it is better that it occurs whilst I am present to remedy the problem, rather than for it to arise over a weekend or whilst the house is unoccupied.
Systems which have been neglected over a period of time, or have not been treated with an effective corrosion inhibitor, may have severely compacted corrosion debris, in the pipe work, radiators, or boiler, and it is possible that even after the power flush, some radiators may still not be fully effective, or boilers on the margin of failure may cease working due to sludge and debris later breaking loose and collecting in the heat exchanger.
All good Norwich Plumbers will be able to advise on this, if you currently don't have a plumber that you regularly use you can find one though the Institute of Plumbers or via Norfolk trading standards Trusted Trader Scheme which TSM Plumbing is a member. Always remember to check that the plumber you let into your home is qualified and Insured to carry out the work you have requested.
I hope this advice will help you stay warm this winter and should you have any questions please feel free to contact me.