The majority of water companies will send a member of staff twice a year to your property to read your meter, but they never tell you how to read a water meter. It is best practice to read the meter on a more regular basis, the reasoning behind this is that should you have a leak underground between the meter and your home if the meter is regularly read you may detect the tell-tale signs of a leak as the water dial is turning when you know no water is running within the home. Any leaking water may be undermining the ground around you; early intervention can save a great deal of damage to your property.
The big question: "where do you find your water meter?"
This will depend entirely on your property, its age, style any recent modernisation. If a meter has been retro fitted it may be located by your internal stop clock – this will normally be located under the kitchen sink or in the bathroom. In some properties it may be found in your garage (providing you have one attached to your property).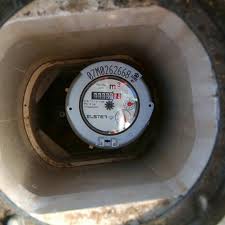 If a water meter has been more recently installed then it is likely it is placed outside your property. It will normally be on the pavement directly outside your front door, on your pathway or on your driveway. You just need to look for a small plastic grey or black coloured lid, or a small metal man-hole cover, which will normally have a 'W' or 'Water Meter' written on the top.
If you're living in a new build, you may find that the water meters will be grouped together in a communal area.
Using a flat head screw driver, carefully remove this man-hole cover and locate your water meter inside the man-hole. You should find that the meter is covered with a cap or polystyrene lid. Simply remove this to be able to read the meter – this cap of polystyrene lid is there to protect the meter from frost. Next to the meter you should find a mains water turn off point, this varies in type dependant on age of property and when it was last serviced. If you are unsure if the shut off still works it is best to have it checked by a professional plumber and replaced if necessary. You are responsible for the use of water from the point it enters your boundary, you can have a very expensive water bill if any leak is not picked up early.
To make sure that you are reading the right meter, look at the meter number or meter serial on your water bill and match it to the serial printed onto the water meter itself.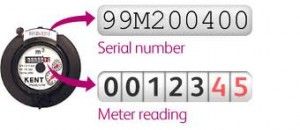 The water meter will have a numeric reading consisting of black and red digits. All you need to note down are the black digits, ignore the red ones.
Replace the cap/lid for the meter and the man-hole cover. Then call your water company and submit your own up to date meter reading.
Should you find a leak or suspect a leak all good Norwich Plumbers will be able to advise on this, if you currently don't have a plumber that you regularly use you can find one though the Institute of Plumbers or via Norfolk trading standards Trusted Trader Scheme which TSM Plumbing is a member. Always remember to check that the plumber you let into your home is qualified and Insured to carry out the work you have requested.
I hope this advice will help you stay warm this winter and should you have any questions please feel free to contact me.
We provided drainage cover across Norfolk, we do not charge a call out fee. We are a local family run business and aim to keep our charges competitive. We will look to beat any national companies quote for a like for like service. Give us a call today on 01603 280144 or 07827 016047
Areas covered include:  Attleborough, Aylsham, Belton, Brundall, Caister On Sea, Cromer, Dereham, Diss, Downham Market, Drayton, Fakenham, Great Yarmouth, Hemsby, Hellesdon, Hethersett, North Walsham, Norfolk, Norwich, Poringland, Sheringham, Stalham, Swaffham, Taverham, Thetford, Thorpe, Watton, Wymondham, Yarmouth
---
---
---
---
---
---
---
---
---
---